Graham Parker
November 25, 2023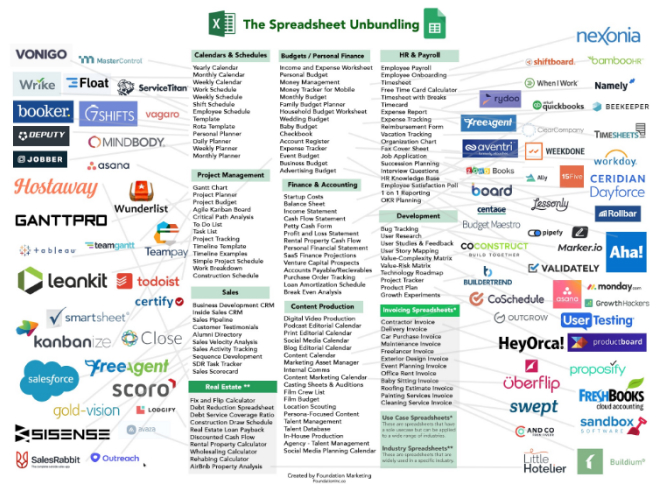 Every major industry has or is going through the "Software is Eating the World" phase.
Supply Chain as a pillar global industry (tens of trillions) is in the midst of that as we speak, a slower speed toward digital transformation versus say Finance, but it has sped up year after year and we 've seen a marked increase post Covid... We are maybe a third, maybe half way there? Gradually edging closer towards a once in a generation digitization of supply chains.
My opinion is that we are still early enough that many of the most successful category defining companies are yet to be built or scaled... If that is true then opportunity is still aplenty.

Let's look at an example that has played out in other industries and where there may still be a lot of Opportunity in the Digitization of Supply Chains....


The UnBundling of Excel
In a pre-SaaS world, nearly every industry relied on Excel. Accountants relied on it for finance management. Managers used it for project management. HR used it for payrolls and employee directories. The sales team used it for lead management and CRM. Individuals used it for to-do list planning.

As companies adopt digitization, operations and workflows become more complicated. Businesses need to find a way to automate and scale efficiently. Teams need to collaborate internally and externally. Specific use cases gave rise to the unbundling of Excel—businesses are created to replace spreadsheets with alternative tools that cater to a niche target audience, interest, and job-to-be-done.

Excel cannot manage the complexity of many workflows we see in Freight in 2023, let us start to look at the How and Why...

- Excel can no longer manage the complexity of for example, shipping rates, from the pace of change, to multiple parties updating to the complexity of the data you need to enrich your rates with to make the best decisions
- Excel does not do well when you have multiple users in multiple locations updating information. With a SAAS Platform there is no risk of overwriting or losing information. Users globally can collaborate in any location
- Excel version control is a nightmare with each user saving many versions each day or week and going back on historic data can be a nightmare
- SAAS applications are highly secure, distributed in the cloud and scalable, handling as much data as you need, as well as many layers of complexity
- SAAS Analytics allow you to see insights immediately which for shipping data can unlock value hidden in excel
- SAAS allows for instant and regular updates, as well as integration via API instantly to many other systems