Graham Parker
November 25, 2023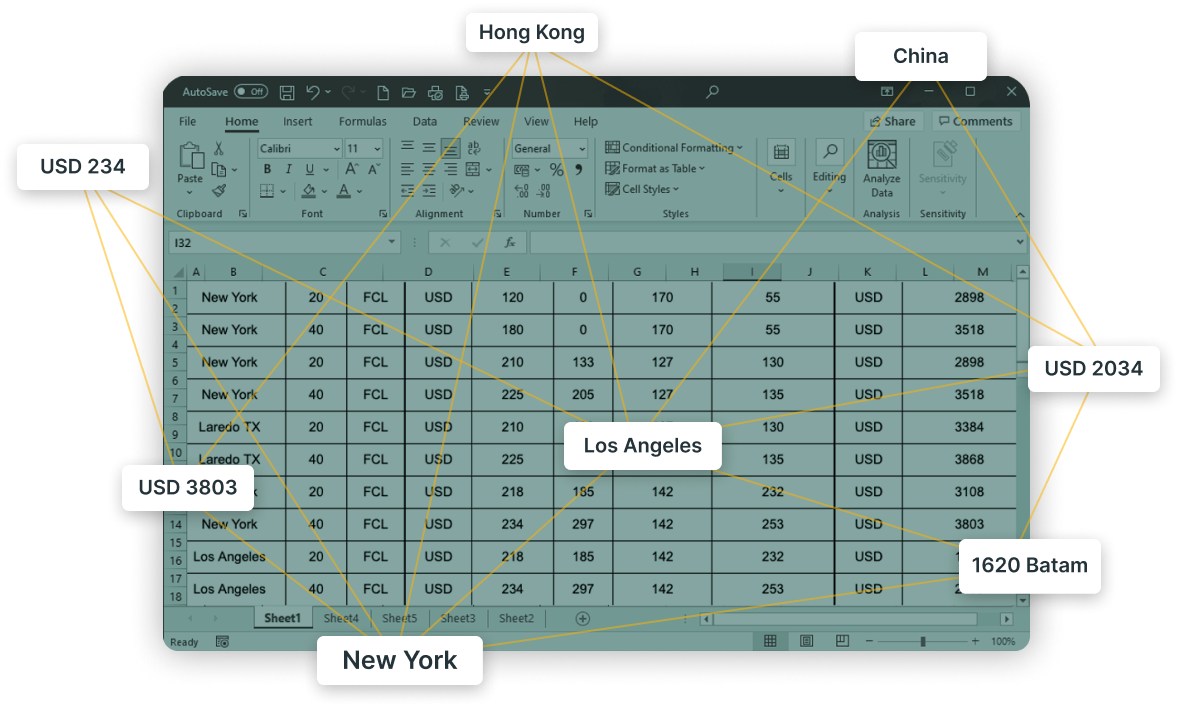 Covid was that once-in-a-lifetime global event that changed the world. Supply Chains suffered extreme challenges and the industry was put under the spotlight as consumers waited months for a new garden patio set or a new TV. Throw in the world's biggest canal being blocked and freight rates going from an average of $3,500 per container to an all time high of $35,000, the pressure was off the charts! For the first time ever, boardrooms of Fortune 500 companies were full of supply chain stats and problems.
During this period, many shippers looked to add digital solutions quickly to help mitigate the stack of delays, price increases and blocked ports. The results in hindsight were mixed: some solutions have become part of the core stack while others didn't implement well (or at all in some cases).
This led to software vendors experiencing a record level of churn while shippers became more careful on the products they add to their digital stack. Flexibility and control played a key role in choosing the right software as companies didn't want to rely on one 3PL or carrier anymore and started testing the market regularly. This has meant a core shift in how shippers perceive software - lack of reliance on freight vendors and utilising software where possible to augment their supply chain partners.
Information from Mckinsey shows that the willingness to buy software is still there and the digital transformation still has a way to play out. However, the software providers that will win in the long run, will be products with ROI - easy, fast and measurable. Gartner still shows supply Chain Management software as their biggest growing sector and we believe this will underpin a change in the makeup of shippers software stacks.
One area Shippers are tackling already is implementations. Sometimes, for high end complex products like ERP or TMS, implementations are a key part but for many other SAAS style solutions the technology doesn't require an implementation process at all. If your product is as simple as 'plug and play', you can go live on day one with an instant ROI. This way your chances of winning the customers increase exponentially.
AI is another key area for success. Unlike the previous two major technology shifts we saw in the noughties and the last decade, where we all needed to get the internet and smartphones, we are all online already and see products enhanced by AI almost every day. This is why AI will find its way into the Enterprise in the coming quarters and not years. Microsoft added GPT4 to Office365 in less than 100 days of it going live! This is a product with 60 billion of revenue and nearly half a billion users. To stay ahead, shippers know it's possible to enhance most products with AI for real world improvements and the best ones are already harnessing its capabilities.
Overall, we think that BCOs are taking a very broad view of the market for the period between now and the end of the decade. As we continue to experience a once in a generation drive toward digitization, they are also keen to see the NVOCC vs Carrier market play out well. Will there be carrier portals at the end of the decade that manage 70% of the volume or will it remain closer to 50:50 just like today? This is another reason why shippers are re-evaluating their supply chain software stacks to ensure that level of autonomy and control.
Although the internal dissection of the covid era supply chain headaches are pretty much complete now and the result is a significant realignment on digital transformation focused on value, autonomy and modernization, some challenges still remain unsolved. Managing shipping rates is still a significant pain point for shippers as they work with shorter term contracts, are forced to dive into the spot market more often, face greater surcharge variability and find large rate differentials on trade lane port pairs.
Moving forward, AI powered solutions will help to tackle these issues for the BCOs as they are easy to implement and offer immediate value to shippers. Join our webinar and learn more about the transformative power of AI in reshaping shipping and logistics, with a specific focus on leveraging AI for optimising shipping rates.